How does the dentist apply dental fillings?
The process of getting fillings involves several steps, including cleaning and matching the color of the tooth, preparing the filling materials, etching the surface of the tooth, applying a bonding agent, adding the composite material in layers, and adjusting the bite for a comfortable fit.
Upon arrival at our office, one of our dentists will initially clean the tooth in question and colour-match the composite material so that your filling is similar in colour to your natural teeth.
Fillings (tooth-coloured) Preparation of Materials: Ensuring Quality and Durability
Fillings Preparation of Materials – After color-matching, the affected area is drilled or trimmed to create a strong base for the fillings. This helps prevent further decay and ensures that the fillings adhere securely to the tooth's surface, restoring its function and structure.
Etching for Fillings
Next, the tooth is conditioned in a process called etching, which involves using an acidic solution to create microscopic irregularities on the tooth's surface. This step helps enhance the tooth's ability to bond with the composite filling material, creating a stronger, more durable bond. Depending on the type of bonding agent, etching may not be necessary for all fillings. This process is painless and is an important part of ensuring the longevity and effectiveness of the fillings.
Application of Bonding Agent in the fillings procedure
After etching, the bonding agent is applied to the tooth's surface. Once applied, a bright blue light is shone directly onto the tooth to cure the bonding material, creating a strong seal over the treated area. This step is important for ensuring that the fillings adhere securely to the tooth's surface and provides added strength and durability. Once the bonding agent has been cured, it is time to add the composite fillings. Using a layering technique, Our dentists carefully apply the composite filling material until the cavity is completely filled. This process is essential for restoring the tooth's natural function and preventing further decay. By using high-quality filling materials and advanced techniques, dentists can create long-lasting, natural-looking fillings that blend seamlessly with the surrounding teeth.
Addition of Composite
Step-by-step, our dentist will add layers of composite fillings to the bonding surface, carefully molding each layer to give your tooth a natural shape. Small amounts of composite fillings are added and cured with each step, allowing for precise shaping and contouring. This process ensures that the final result looks and feels natural, while also providing the necessary strength and durability to withstand everyday wear and tear. By using the latest techniques and high-quality filling materials, Dr. Amrit Bainsor Dr. Tomasz Sposob can create fillings that blend in seamlessly with the surrounding teeth, restoring your smile and confidence in no time. With proper care and maintenance, these fillings can last for many years, providing a cost-effective solution for addressing cavities and other common dental issues.
Adjusting your bite: The last step of the fillings procedure
Once the final layer of composite fillings has been applied to the treated area, our dentist will check your bite to ensure it is properly aligned and feels comfortable. This involves biting down on a thin piece of material and indicating whether your bite feels natural. Once your bite has been confirmed, our dentist will polish the filling material, creating a smooth surface that seamlessly blends in with the surrounding teeth. This final step helps to ensure that your fillings are not only functional but also aesthetically pleasing. With high-quality composite fillings, you can restore your teeth to their natural strength and appearance, all while enjoying a comfortable and stress-free dental experience.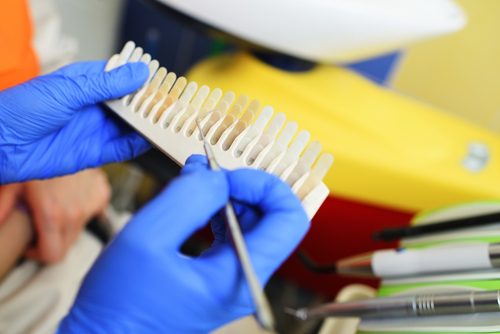 Unlike traditional gold and silver amalgam fillings, tooth-colored filling composites match your natural teeth' color and structure. As a result, no one will recognize you have had a cavity. Even better, these tooth fillings do not contain metal or mercury.
For the most part, tooth-colored fillings, also known as composite fillings, are cosmetically suitable options that are applied with a more conservative approach. Additionally, compared to amalgam fillings, composite fillings do not involve the use of mercury in the production of their material. However, fillings (tooth-colored) may need to be re-applied multiple times since they provide a weaker bond than amalgam fillings, which can be a more suitable option for larger cavities and those with poor oral health conditions.
Getting fillings is an important decision. Please discuss with one of our dentists which filling options are best suited for your oral health status.
At Aura Dental Centre, we are dedicated to resolving the decaying process to prevent further complications and restore your beautiful smile with tooth-colored fillings and other dental care needs. Dr. Amrit Bains or Dr. Tomasz Sposob recommend a typical dental hygiene routine that includes twice daily brushing, frequent flossing, and biannual dental cleaning visits to our office to sufficiently maintain your composite fillings.
If you have any questions or concerns about dental fillings, please call our office today at (204) 560-4500 to receive a consultation about what dental fillings are best suited for your lifestyle and/or oral health!
After the fillings procedure, the anesthetic's numbing effect will typically wear off within 1 to 2 hours. Our dentist will advise you on when it is safe to resume eating solid foods to allow your fillings to settle and form a strong seal. It usually takes up to 24 hours for the composite to fully harden, and you may experience mild discomfort or sensitivity in the area, which should subside within a few days or weeks.
To ensure the longevity of your fillings, we recommend following a regular dental hygiene routine, including brushing twice a day, flossing regularly, and scheduling biannual dental cleaning appointments at our office. This will help maintain the appearance and function of your fillings for many years to come. 
Composite Fillings are Aesthetically Appealing and they are durable
If well cared for, tooth-colored cavity fillings (also known as composite fillings) can last for up to 10 years or more.
Regular checkups with our dentists can help detect any signs of decay and ensure the longevity of your fillings. In some cases, fillings may need to be replaced due to wear and tear, but with proper care and maintenance, you can maximize their lifespan. At Aura Dental Centre, we are committed to providing high-quality fillings and ensuring the overall health and wellness of our patients' teeth.
Quick and Easy Dentistry Treatment
Tooth-colored dental filling procedure is easy, quick, painless, and cost-efficient. The dentists' at Aura Dental Centre are professionals who can complete a single filling in 30 to 45min.
In addition to colored fillings, we offer other dental filling options but are not limited to cast gold and silver fillings. At Aura Dental Centre, we are dedicated to resolving the decay process to prevent further complications and restore your beautiful smile with tooth-colored fillings and other dental care needs.

Dental Fillings in Winnipeg: Expert Restorative Dentistry Services
Aura Dental Centre provides personalized services to residents in Winnipeg. We're proud of the fact that we serve many neighborhoods throughout our city including Seven Oaks, River East, Inkster and Point Douglas among others.