Dental Implant Procedure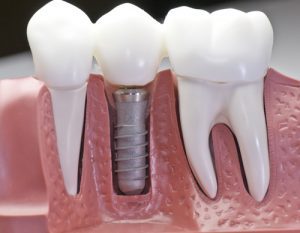 There are many reasons why someone may be missing teeth or require the replacement of a tooth, such as tooth decay, periodontal disease, or physical damage/injury to the tooth.
When an individual is suffering from complications such as tooth decay or a cracked tooth, things like eating, drinking, and even talking can be difficult (depending on severity). Fortunately, our clinic provides dental implants that allow you to overcome these complications and restore your happy, confident smile.
Our dentists are always thrilled to be able to help you replace a tooth that has separated from the bone or bridges that have been damaged with orthodontics like implants. These dental implants have a higher upfront cost to patients, but they are far better for good oral health over the long run.
What Are Dental Implants and How do They Help Missing Teeth?
Each one of your natural teeth is comfortably embedded in a socket that forms within your jawbone. Within the socket, the internal segment of the tooth (the part you cannot see, also known as the pulp cavity) contains a network of blood vessels and nerves that connect to the main nerves and vessels along your jaw. This forms the root of the tooth.
When you receive a dental implant, the entire tooth (including the root) is removed from the socket. The dental implant is a titanium rod that is surgically embedded in the jawbone where the tooth was removed and serves as an artificial tooth root to replace the old one.
For those how have been dealing with partial dentures, there are solutions like all on four and other smile solutions to get you back on track.
This gives the foundation for a replacement tooth that will support the natural tooth on either side of it and replace missing teeth. The dental implant procedure is the only dental implant treatment procedure that results in replacement teeth that feel like normal teeth. There are a few dental implant options and your dental implants in Winnipeg cosmetic dentistry experts can help you to have missing teeth replaced.
What Might Prevent me From Receiving Dental Implants?
There are some factors that can prevent you from getting dental implants or full mouth restorations. You will need to have enough bone to correct your tooth loss that will require a dental implant. Significant bone loss or jaw deformities can make treatment more challenging. You may also need a custom treatment plan if more than one tooth requires replacement with implants.
A patient coordinator can schedule a consultation and help you to talk through your oral health plan before the process begins. This can only be done if you are a good candidate for healing properly after your implants are placed or your existing bridges are replaced.
Be sure to take your consultation and any other appointment seriously if you are contemplating dental implants in Winnipeg. Dental implants vary and you may have to work on getting healthy teeth before you will be able to replace a missing tooth.

What are the steps in getting dental implants?
First and foremost, our dental care team will design a personalized treatment plan for your implant process that will be catered to your personal needs and lifestyle. This will aid in the preparation, maintenance, and recovery associated with receiving a dental implant.
This plan will take into consideration regular checkups, check-in appointments, free consultation, payment plans, and continuing treatment options for your particular procedures and support requirements.
Patients who need extra help with payment plan options should not be discouraged when they see the estimated cost. We can help you find a way to pay for your treatment.
Often the first step in the process is to get a CT scan so that implant placement can be defined correctly. This is easier when you are replacing a single tooth, but no matter if you need lower arch implants, upper arch implants, or dentures replacements, a CT scan will tell your dentist where to place your new implants.
CT scans also determine if you are well-suited for large procedures like a full arch or other major replacement surgeries. Patients with dentures and other unique needs to maintain their smile may also need to see a dentist for a consult to balance their surgery against risks like job loss from long-term absence during the recovery process.
Extraction and surgical implant
Next, you will be prepped by our dental care team, and a dentist will perform an extraction of the tooth that you are looking to replace. An extraction simply refers to the removal of teeth from their sockets.
Once the tooth is removed from the gums, one of our dentists will surgically embed the titanium dental implant into the jawbone through the empty socket where one of your teeth was extracted.
Because the integrity of the implant relies on its fusion with the jawbone, you will then have a recovery period that can range anywhere from 6 to 12 weeks. During this time, the jawbone begins to heal and bone tissue grows around the implant, fixing it in place within the socket.
You will need to take excellent care of your mouth and maintain healthy gums during this time and make sure that you avoid some of your favourite foods if they might damage your implants.
Proper care and maintenance, combined with daily brushing and care for your smile are essential if you are to be judged a good candidate for the implant process.
Abutment and crown installation
After the implant has been fixed in place and the jawbone has healed sufficiently, you will return to our office where one of our dentists will connect a smaller post, called an abutment, to the implant. This will further secure the implant.
Next, our dental care team will take an impression of your teeth, creating a mould that will guide the development of your replacement tooth, called a crown.
Once the mould is complete and the crown is created, it is attached to the abutment. Of course, our dentists will ensure the colour of the crown matches the rest of your teeth.
You now have your brand-new teeth that look, feel, and function just like any of your natural teeth!
Is There Any Pain or Discomfort During or After the Implants Procedure?
Most of the time, people who receive dental implants have reported very little discomfort during the procedure to get implants. In fact, a topical anesthetic is applied to the injection site, you will barely even feel the needle used to apply the local anesthetic (lidocaine).
The lidocaine provides a local, numbing feeling around the tooth that is to be removed/replaced to reduce the discomfort that may arise during the implant procedure.
Our highly trained dental professionals will ensure that the procedure is as painless as possible for you and will always prioritize your comfort. We know that patients will have to go back to work or other activities during your daily life, and you cannot be laid up for weeks after these procedures.
Following the implant procedure, you may experience slight discomfort or pain from the installation of the crown as you go about your daily life. However, this can easily be treated using over-the-counter medications that ease pain, such as acetaminophen (e.g., Tylenol).
Caring for Dental Implants and Adjacent Teeth
One of the best things about getting a dental implant is that, once it's installed, that's it! Keep up with a healthy dental hygiene routine and you will be good to go with your new smile. That is, make sure to continue brushing at least twice a day, maintain a good flossing schedule, and visit us twice a year for your biannual dental cleaning.
For those who have come to their dentist appointment to replace dentures, having a new smile will be amazing! Even a single tooth being missing can make implants well worth the cost to many patients.
Call us today at (204) 560-4500 to book a consultation appointment and further inquire about the dental implant process if you are thinking of removing/replacing one of your teeth!
Articles and Questions

Dental Implants in Winnipeg
Aura Dental Centre provides dental implants and friendly, personalized services to residents in Winnipeg. We're proud of the fact that we serve many neighborhoods throughout our city including Seven Oaks, River East, Inkster and Point Douglas among others – Call us today for more information on how we'll help make your teeth work better than ever before by fitting you into one our appointments availabilities.