Tooth-Coloured (Composite) Fillings
Cavities happen, and these cavities need to be corrected to avoid disease and decay of the affected tooth. Composite fillings are a suitable option to repair cavities and prevent any complications that can arise from untreated, cavitated teeth, all while maintaining the natural colour of your teeth. At Aura Dental, our dental care team can provide you with efficient and professional tooth-coloured fillings to protect your teeth from further disease and decay.
Composite fillings vs Amalgam fillings for your teeth: What are they?
Composite fillings are made from resin-based material, which basically means fine glass and plastic material. The material used for a composite filling is applied to the tooth and fills in the natural tooth structure, resulting in an invisible layer over the specified area on the tooth. Composite fillings present a suitable and aesthetically pleasing alternative to amalgam fillings (intra-site link?), though they can be more expensive.
How does the dentist apply coloured fillings?
Upon arrival to our office, one of our dentists will initially clean the tooth in question and colour-match the composite material so that your filling is similar in colour to your natural teeth.
Preparation
Once the material has been colour-matched and the tooth has been cleaned, the cavity is "removed" by drilling or trimming the affected area – this creates a strong base on which the filling is applied.
Etching
Next, your tooth is conditioned in a process called etching. Etching involves the use of an acidic solution to produce microscopic irregularities on the tooth surface and is completely painless. The purpose of etching is to enhance the ability of your tooth to bond with the composite material, and may not be necessary, depending on the type of bonding agent used by the dentist.
Application of bonding agent
The bonding agent is then applied to your tooth. Once applied, a bright, blue light is shone directly onto the tooth surface to cure it. The curing process basically hardens the bond material to the tooth, creating a strong seal over the treated area. This completes the initial filling process, and now it is time for the composite to be added.
Addition of composite
Step-by-step, our dentist will then procedurally add layers of composite to the bond surface, which will be finely molded to give your tooth a natural shape. Small amounts of composite are added and cured with each step—this way, you can walk out of the office with a healthy, strong, and natural-feeling tooth again.
Adjusting your bite
Once the last layer of composite has been added to the treated area, our dentist will test your bite to see if it is aligned, and whether it feels comfortable to you. This simply involves biting down on a thin piece of material and indicating whether your bite feels natural. After your bite has been confirmed, our dentist will polish your filling so that it is smooth and looks natural.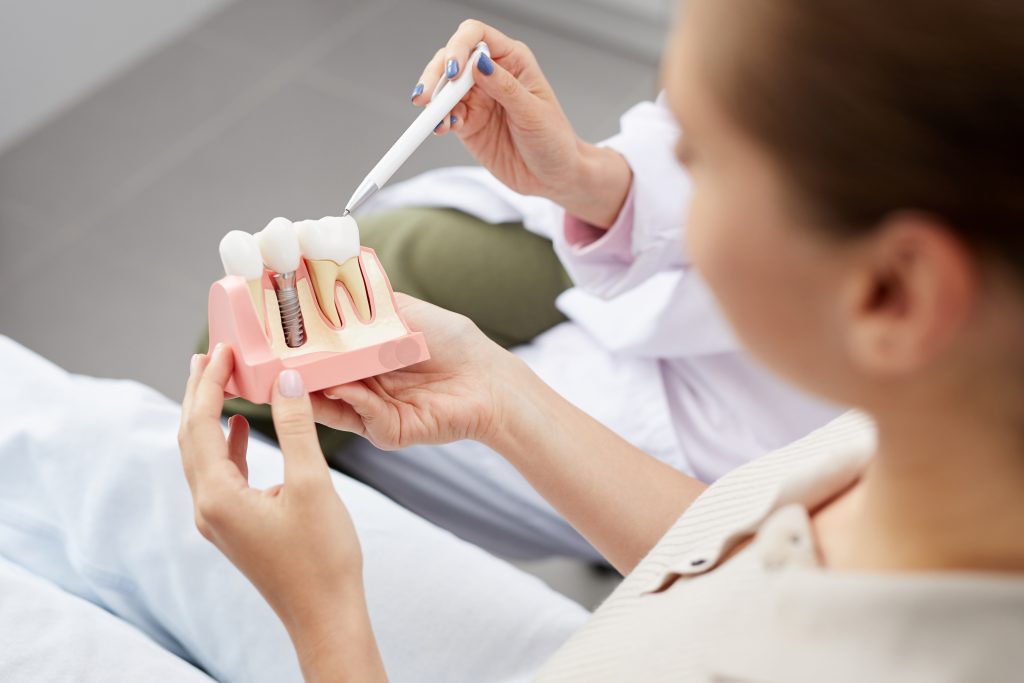 How should I care for my composite filling?
Numbness induced by the anesthetic should wear off anywhere from 1 to 2 hours following the procedure. Nevertheless, our dentist will inform you of a reasonable time that you can begin to eat solid foods again so as to let your filling settle and form a strong seal. It can take up to roughly 24 hours for the composite to completely harden, and you may experience slight discomfort or minor pain around the area—this is normal and should dissipate within a few weeks.
Other than this, our dentists recommend a typical dental hygiene routine that includes twice daily brushing, frequent flossing, and biannual dental cleaning visits to our office to sufficiently maintain your composite filling.
What are some advantages/disadvantages to having a composite filling?
For the most part, composite fillings are cosmetically suitable options that are applied with a more conservative approach. Additionally, compared to amalgams fillings, composite fillings do not involve the use of mercury in the production of their material. Although, amalgam fillings use a safe amount of mercury and provide a stronger bond compared to composite fillings, meaning you may have to have the same composite filling re-applied multiple times.
Composite fillings are also not suitable for large cavities and for those with poor oral health conditions—because of this, one of our dentists will discuss which filling option best suits your oral health status.
Finally, composite fillings are much more expensive that may not be covered by insurance companies, and are vulnerable to daily consumption of alcohol, with cases of premature deterioration prevalent in those who frequently drink alcoholic beverages.
Regardless, composite fillings can provide protection against further cavitation and tooth decay, thereby restoring your oral health. Call our office today at (204) 560-4500 to receive a consult about what dental fillings are best suited for your lifestyle and/or oral health!
Tooth Colored Filling

Tooth Colored Fillings in Winnipeg
Aura Dental Centre provides tooth colored fillings and friendly, personalized services to residents in Winnipeg. We're proud of the fact that we serve many neighborhoods throughout our city including Seven Oaks, River East, Inkster and Point Douglas among others – Call us today for more information on how we'll help make your teeth work better than ever before by fitting you into one our appointments availabilities.